The family history
Share and discover naturism in nature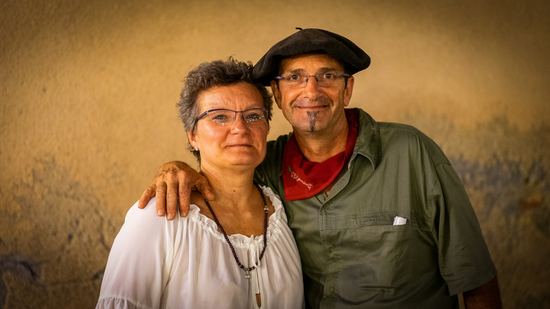 Share and discover naturism in nature
At the naturist Domaine de l'Eglantière, three generations of the Féraut Seguin family have followed one another.
When Maurice and Marcelle Féraut imagined welcoming other naturist enthusiasts to the farm in 1985, they simply wanted to share their little corner of "paradise" located in Ariès-Espenan.
They would have liked to have gone camping with their children Eric and Xavier if they had not had the chance to live there.
The estate is located in a hilly and well protected area, in the heart of the Magnoac countryside. Rich in biodiversity: you can find a river, ancient oaks, forests, meadows and wheatfields. The vast area of ​​45 hectares includes the naturist campsite, an organic farm but also the historic site of the castle of Espenan.
The naturist camp has large flat sites, naturally delimited and arranged along the river Gers. Space is not lacking to welcome naturists with family or friends. The conviviality and the sharing are values ​​transmitted from generation to generation that the owners, Xavier and Isabelle, will not fail to transmit to you.
The farm is conducted in sustainable agriculture, respectful of the environment.
At l'Eglantière, it's always been this way: "respect for the nourishing land" is not a modern concept, it's just common sense! It is by conviction that in 2001 Maurice obtained the certificate of organic farming from ECOCERT. Since 2012, the estate has produced its own "green" electricity and at the end of 2016, our first farm seeds were sown.
Three generations of naturists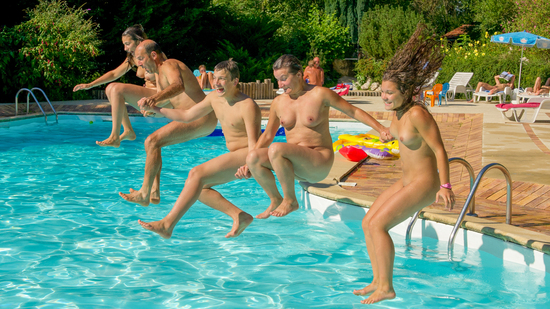 Three generations of naturists
Thirty years later, Iris, Julie, Rémi and Suzy, the third generation grew up here.
This is why, for almost 35 years, our family has realised the dream: to discover and share a little paradise for the holidays. This place of life, in every manner of the word, in the middle of nature is conducive to the expatriation and the blossoming of big and small.
The Féraut family pays scrupulous attention to adapt the Domaine de l'Eglantière to "modernity" without sacrificing the essentials. The spirit of the place, imbued with freedom, conviviality and sharing still remains today.
Take a breath, it's full of serenity and well-being. In nature, everything is there to make you feel at home during your naturist holiday.