Naturist hiking
Naturist walks
Experience the freedom of a naturist walk!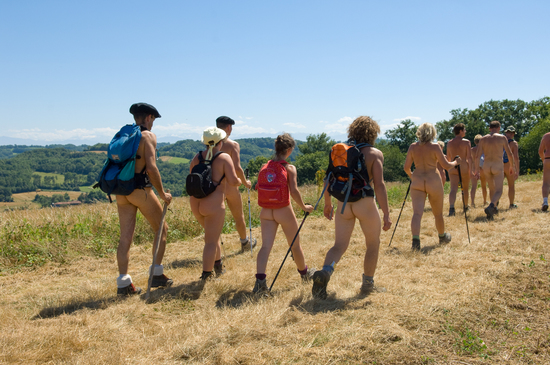 Naturist walks
Experience the freedom of a naturist walk!
Empty your mind completely and get in touch with nature again. Feel free and unrestricted when you walk through the hills in your skin while enjoying the beautiful views.
With an area of ​​45 hectares, the Domaine de l'Eglantière is the ideal place for taking a walk. Discover the forests and fields on the many paths on our domain as a couple or alone. But of course you can also go out as a group or join one of our guides on the road. If you ask us, then an exposed walk is the perfect way to stay in condition and also completely relax.
Keep your eyes and ears open while walking and there is a good chance you will see deer, squirrel, hare, hedgehog and various species of bird. Feast on a variety of wild finds, depending on the season, such as blackberries, wild strawberries, figs, mushrooms, chestnuts and even leaves of mint, dandelions or nettles.
Did you know that France holds the world record for naturist walking, it's the most popular activity here.
Do you want a taste of where you can roam free this summer and enjoy the warm sun? Then watch the video produced in collaboration with NaturismeTV.