Nature & Authenticity
The 45 hectares
of the Domaine de l'Eglantière await you,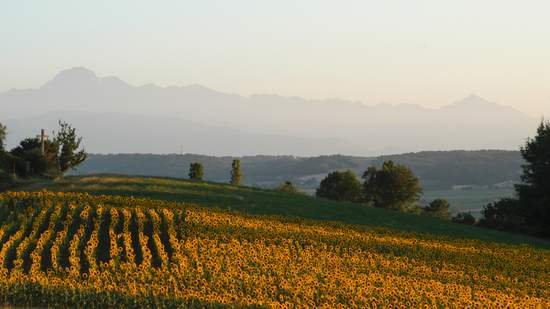 The 45 hectares
of the Domaine de l'Eglantière await you,
from the first spring birdsongs to the last autumn mushroom. A particular sense of welcome when you arrive at our 3 star campsite (ranked by a Camping Qualité policy) everything is set so you can enjoy a family holiday or a weekend with friends!
You may arrive as a stranger, but you will leave feeling like a member of the family!
At the height of Domaine de l'Eglantière you will find the sauna and the relaxation area for massages and yoga. The building - the former Castle of Roger d'Espénan - dominates the valley and the little church at the enterance of the campsite. A short downhill path brings you out just behind reception.
Restaurant, bar, snack bar, shop...
Restaurant, bar, snack bar, shop...
everything is on site for a better service. Solarium, swimming pool, children's pool, mini-club, playground... The entire family can enjoy our facilities !
All along the campsite the river Gers is a favorite playground for children, adults and...dogs! Everyday our animation team work hard organising activities for all the family: camp-fires, sport contests, ghost hunting, live shows, fishing activities, walks, bike rides and canoeing.
Here, everything is set up so each one of you can enjoy a fantastic holiday, either joining others or preferring privacy but always with Nature in the background!
The Domaine de l'Eglantière offers space to breath, comfortable accommodation and large camping places, all naturally separated and comfortable.
FLORA AND FAUNA
FLORA AND FAUNA
On foot, by bike or in a canoe - see and discover the abundance of nature at Domaine de l'Eglantière. Blue for Aquilegia, Echium, Iris or blue Pyrenean Thistle, both endemics; yellow for Lesser celandine, Broom, Ranunculus Acris; red for Rhododendron, Colchicum, Lilium martagon or Sempervivum mountanum; purple for Pyrenean Ramonda myconi, which is dedicated to Ramond de Carbonnières. All dependant of the season.
Eighty-two species of orchids (out of 150 counted in France) can be found in the mountains, up to 2000 meters high, of which the famous Cypripedium calceolus which only blossoms for a couple of weeks.
Did you know? In the "Bains du Salut" in Bagnères-de-Bigorre since 2001, the National Botanic Conservatory of the Pyrenees and Midi-Pyrénées compiles a permanent inventory of uncommon and threatened plants as well as setting intervention priorities for preservation matters
WATER
WATER
The many springs at Domaine de l'Eglantière give the area a varied, thick and well-irrigated vegetation, this you will discover as you walk through our nature paths.
The Domaine de l'Eglantières' main feature is the river Gers, as it crosses the site here and there, its gentle, winding course brings freshness and tranquility. Here you will find trout and gudgeon playing on the water to the delight of our anglers.
LAND
LAND
The clay soil is home to century old oak, ash, wild rose, chestnut, acacia, willow and much more. Gathering berries and mushrooms, chestnuts and figs each year is a must for the connoisseur.
Among this varied vegetation it is not unusual to encounter salamanders, sheep, roe deer, squirrels, dormice, hares, hedgehogs, weasels, martens and not forgetting the age old crickets. With a little patience, photographers will be able to take stunning photos.
AIR
AIR
Pure air due to the untouched countryside and forest on and around our campsite. At night a starry sky and Milky Way and the Perseids are one of the brighter meteor showers of the year. They occur every year between July 17 and August 24 and tend to peak around August 9-13, and will amaze romantics and stargazers alike.
From sunrise on, you are sure to hear and perhaps also see the impressive diversity of birds in the area: jays, turtle doves, sparrows, robins, woodpeckers, thrashers, spotted woodpeckers, kingfishers and pheasants. But also : partridges, quails, kinglets, titmice, swallows, egrets, herons, wood pigeons and magnificent birds of prey - buzzards, red kites or hawks.