Activities
Activities for all ages
With an extensive entertainment program, everyone knows how to enjoy themselves here at Domaine de l'Eglantière. Active, creative, educational, sporting and water activities are offered, with a different theme each week as the starting point. For the smallest of us there is also the Mini Club with various activities.
The current program can be found on the information board as well as information on registration forms for various activities. If you want to plan ahead then you can simply download the Camping Qualité app to stay up to date or to sign up for activities.
Teenagers and young adults
Our animation team is there for everyone, also for the young people and teenagers at the campsite. It doesn't matter if you like being active or would rather chill with peers by the river, you can do just that. We have a youth Hangout, where you can use the WiFi and make new friends. In the evening you can go to one of the parties or enjoy the marshmallows by the campfire. If you have a request or would you like to do something special, get in touch with our animation team and we will do our very best to accommodate you!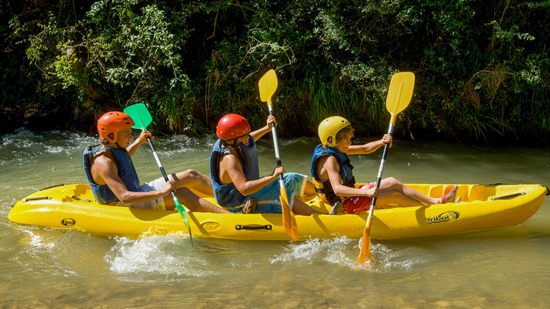 Canoeing *
On canoe days we have a few departure times per day, we ask you to subscribe on the registration forms available on the campsite so we can accommodate everyone and it runs smoothly. We gather on the terrace at the restaurant, get our safety gear, helmets and life jackets and are shuttled to the departure point on the other side of the campsite to launch the canoes. After a brief safety instruction, the adventure begins and you are on the river Gers for an hour or so. At the end of the route, the shuttle service will take you back to the campsite. Canoeing is highly recommended and a fun activity for young and old.
Archery *
Archery is a fun challenging activity for everyone. You learn how to handle the bow and arrow safely by practicing on the target. Registration forms are here on camp with the days and times indicated on the animation program. Would you be good enough to survive the Hunger Games? Join in and find out!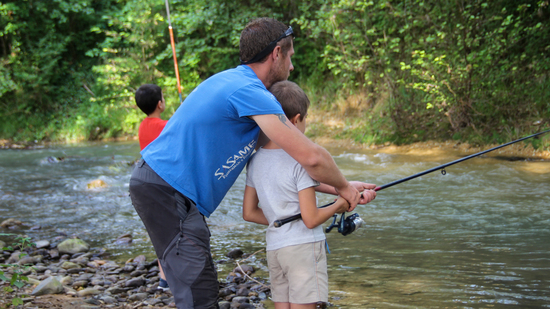 Fishing by the river *
One of our most popular activities among the children especially. In the morning we meet at the restaurant and walk to the fishing spot with Jean-Baptiste. This is located on the domain behind the organic farm where all fishing rods are available. Of course you can also use your own material if you prefer. Around noon we return to the restaurant where the fish is prepared and served for lunch, with chips of course. Check the current animation program for updates on this activity, registration is obligatory.
Children do not need to be accompanied by parents for this activity but parents are very welcome to go with the children. We ask a small fee for our fishing activity this is to cover the application for a compulsory fishing license, which is valid for a year and can be used throughout France on rivers in the first category (trout and goby). The permit ensures, among other things, that the amount of fish in the river is maintained so that the ecosystem is not disturbed. We believe it is very important to preserve nature and we have therefore chosen to immediately prepare the fish and serve it as a lunch so that no fish is thrown away unnecessarily.
Wake up your body
In the morning we invite you to join the "wake up your body" session. This activity is most appreciated by our adult guests but teenagers are also welcome. All muscles and joints are first activated and released during the warm-up. Afterwards a bit of cardio if you're up for it, followed by a cool-down and stretching. After this activity you can enjoy the rest of your day with a satisfied yet relaxed feeling.
Pilates
If you enjoy working with your body, then the pilates workshop is for you. We will take you to a quiet place on the campsite to work on mobility, activate the deeper muscles and improve posture and physical functions. This is done through various exercises in combination with correct breathing.
Massage Workshops
Would you like to learn massage? We have workshops which introduce the basic techniques of a classic relaxation massage or traditional shiatsu massage. Family and friends will certainly appreciate it if you master these techniques. The times and location for these workshops can be found on the animation program, you'll find registration sheets on camp.
In addition to the workshops, it is of course also possible to book a massage to completely relax during your holiday. More info can be found here.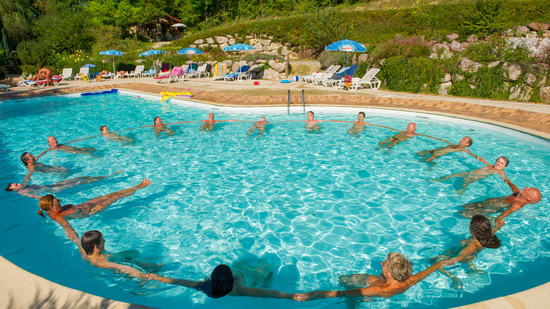 Volleyball - Water Polo - Badminton
For everyone who wants to stay active on vacation, friendly competitions are regularly organised for all ages. In addition to being physically active, these sports also offer the ideal opportunity to get to know other guests. For the children these activities are done with the mini club.
Aquatonic
The adults in particular are very enthusiastic about this activity, but the young people are also very welcome to participate. During the aquatonic all muscles are covered by the different exercises. It's a workout that doesn't feel like a workout ...laughing, exerting, relaxing and having fun are all covered.
Table tennis
In the vicinity of the restaurant we have table tennis tables that can be used all day. Tournaments and fun activities are also organised by the animation team. For example, have you ever tried playing with a frying pan?
Pétanque
There are 4 petanque courts on the campsite that you can use freely. A weekly friendly competition is also organized for which you can register. Petanque is the ideal activity to be busy at the same time as making contact with other guests.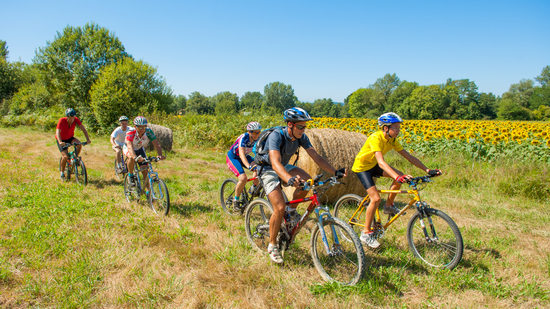 Cycling and mountain biking
We have bicycles for rent at the campsite for use on and outside the campsite. Children love to cycle around the grounds independently with us and since everything is easy to walk on, you don't have to worry as a parent. If you have bikes for the children yourself, don't hesitate to bring them with you.
In the vicinity of Domaine de l'Eglantière there are several cycling routes to explore the area. There are many small roads through the hills where the view is constantly changing due to the different heights and viewing directions. More information about the routes and possibilities is available at reception.
Are you looking for a bit more of a challenge, then you can choose to go on a journey of discovery through the mountains or ride and explore the nature on the unpaved paths with a guide. Don't worry, it's not an extreme downhill race or something like that, but a nice bike ride through the natural beauty of the Midi-Pyrénées.
Creative workshops*
Throughout the season, various workshops are offered for the creative ones among us. Painting, drawing, crafts, photography, modeling, look at the animation program to see what is being offered this year.
Do you have a request or do you have a talent, hobby, or something you would like to share through a workshop? Let us know in time and ask about the possibilities.
* For this a small fee may be requested for material, license application, etc. so that we can continue to offer these activities to everyone.